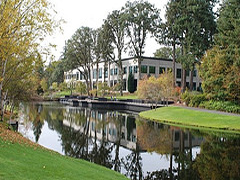 The Friends of the Hillsboro Public Library present their Spring Book Sale. It is held at the
Hillsboro Main Library
May 1-10, 2009 in the Main Library Meeting Room.
Items are added every day throughout the sale, so come early and come often.
Come in and browse any time during library open hours at the Hillsboro Main Library at
2850 NE Brookwood Parkway
. The library (and sale) are open Monday through Friday 10-8, Saturday 10-6, and Sunday 12-6.
For your convenience, there is an ATM machine for the Main Library Lobby, where $1.40 of the $1.50 fee goes to the Friends of the Library.
For more information, call 503/ 615-6500 or sign up for their Book Sale announcement email list at
http://hillsborolibraryfriends.org/
.
This year's sale offers more than 50,000 items to choose from. For example, there are almost 300 boxes of books sorted into 32 categories. Those categories include:
General Books:
Art/Photography
Business
Childrens books
Classics/Poetry/Philosophy
Computer
Fiction/Fantasy/Science Fiction/Mystery/Religious Fiction/Romance/True Crime
Large print books
Biography/History/Political Science/Current events
Reference
Religion/New age
Science/Animals
Sports/Humor/Games
How-to:
Cooking/Crafts
Fix-It
Gardening
Health
Parenting
Self Help/Relationships
World Languages
Audio/Video:
Audiobooks
CDs
LP Records Albums
VHS/DVDs
The Friends welcome your donations of books, videos (VHS and DVD) and CDs. Please drop them off the Main Library's Welcome Desk, where there are donation receipts for tax purposes.